Thank You!                                                                           

Thanksgiving, among many things, signals the winding down of the year.  As the days dwindle down, many of us will pause to look back at what we've learned, shared, and benefited from.  It also turns our thoughts to the future. Looking at the year ahead, we start to lay out our hopes, dreams and plans, in some fashion.  As I reflect on all that's taken place this year, my gratitude goes to friends, clients, colleagues, and all those who have simply passed through and touched my life in one way or another.  Together you've added a richness to my life, and to those in our close circle of colleagues, here at BoardBench.
I'd like to share one recent experience that added a new dimension to how I think and will operate, going forward.  This fall I received a special invitation to join in a four-day weekend retreat with over 300 people of very diverse backgrounds.  They came from around the world:  US, Russia, Finland, Sweden, Japan, United Kingdom, Germany, and many other locales.  Each had a unique story and background to share.  All touched my life and increased my ability to look at new ways to take on challenges on all levels, for our clients and myself.  
Some, looking in from the outside, might ask: "What the heck were all these people talking about? There is  no common business, professional, or personal theme."  Few have that unique ability to use all facets of their analytical and creative gifts to see where the common threads were in this group, and how the simple act of asking questions and engaging in wide-ranging conversations can help us all with our daily lives and change how we work with one another.  From finance, to law, oil and gas exploration, healthcare, morals and values, art, mindfulness, deep space, faith and spirituality, physical feats and world records, history, political controversy, technology and innovation, publishing, archeology, capitalism, and yes, even a touching and open discussion about the importance of love letters (not the play), each brought to the whole a new level and ability to look at the worlds in which we live and work.   
Through this unique group, I've made new friends, forged unique relationships, and strengthened old friendships (some of which I didn't realize were already there to begin with).  I will continue to challenge myself and those I work with to see the world and its environments from different perspectives in the hope that we can continue to do exceptional work for ourselves and all those whom we serve.
There are many more stories that I can share this Thanksgiving season.  Because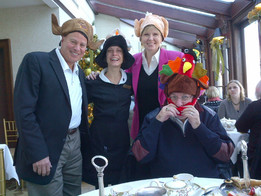 this is a glimpse into one personal experience with some of the extraordinary individuals I have the privilege of knowing, this post is shorter than it deserves to be.  Thank you to everyone who has made my life, our business and our clients happier, healthier and stronger.

P.S.  Yes that's me in the turkey hat, together with our waitress and two gobbler friends!
BoardBench Companies, LLC | 5 River Road, Suite 245, Wilton, CT 06897USA | P. 203.493.0080